Are you looking for a fun project that adds a touch of whimsy or inspiration to the garden, or maybe just a weekend diversion for the kids? Painted rocks might just be the idea you're looking for. They come in so many variations from funny rocks and cartoon characters to meditative stones and scripture quotes… the ideas are endless. We will also go over how to choose rocks and the right painting materials. It's one of the easiest things you can do to dress up your garden beds and more, so let's get started.
Painted Rocks As Garden Art
Where else are you going to keep rocks except in the garden? Joking aside, we'll get into indoor uses for painted rocks also, but before we get into the "how-to", I want to give you some ideas for you to get the creative juices flowing.
Let's start with water features and koi ponds. Rocks painted with mermaids, fish (like Nemo), turtles, and frogs go well with the 'water' theme. Try placing around, in, or under the water with other rocks. This is a low-cost way to add an attractive element to any part of the garden.
Painted rocks also make attractive markers for vegetable rows and pots.
A Fun Family D.I.Y. Project
Making your own memories painting simple garden rocks is a fun process and in the end you have some family keepsakes that will last in the garden for years. They can also be kept as indoor decor or pet rocks. I've seen an outdoor tic-tac-toe table where the X's and O's were replaced with ladybug and bumblebee rocks, so when you're rocks are finished they can still be enjoyed as game pieces.
Have the kids re-create the Minions or their favorite cartoon characters and make some fun afterwards by playing hide-and-seek with their new rocks.
Probably the easiest way to enjoy painted rocks is to use glow in the dark paint. Place a few of these illuminated stones in your yard. They should glow for a few hours after sunset. These won't make the best rocks for hide and seek, especially after dark!
You can use your imagination to see how this would be very cool and useful around Halloween time. Black rocks with glow-in-the-dark eyes… spooky huh? Paint twice as many as you think you will need and keep half of them under a bright lamp to replace the others with when they start to get dim.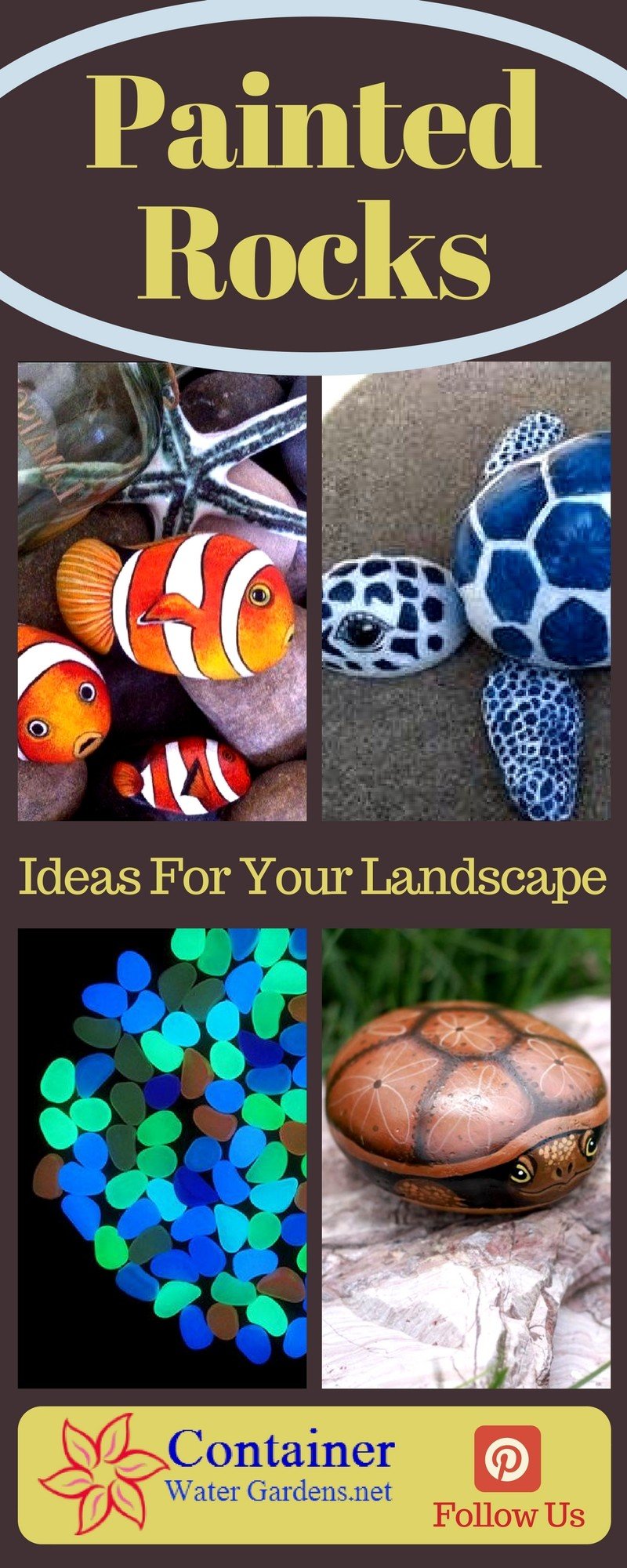 How To Make Painted Rocks
All you need is a clean, smooth river type of rock or rocks with the size and shape you desire, and paint, brushes, and a sealer. If you cannot find the right type of rock in your area, try garden centers or Amazon.  Hobby and craft stores carry acrylic paints. Be sure to choose a paint made for outdoor use like patio furniture paint.
By the way, none of these materials are expensive. I've seen bags of smooth river rocks for around $6 at garden centers and acrylic paint comes in smaller sizes by the ounce.
Here is what you do:
Clean your rock(s) to prep. for painting. Scrub with dish soap and water, then rinse.
Allow to dry completely.
Paint your design. Consider applying a contrasting color base coat, it can make some designs like quotes really stand out.
Allow each coat of paint and sealer you use to dry before applying the next coat.
After your design is finished apply a spray-on clear acrylic sealer in a well ventilated area.
When your first coat of sealer is dry, apply a final coat. This will ensure good outdoor weathering and handling resistance.
These are your basic tools and materials to get started. For more advanced techniques you might also find these tools useful:
Acrylic paint markers (easier to make lines than using brushes)
A fine line applicator for paints
Dot making tools used by manicurists to make perfect dots for fancy nails (useful in mandala rock art)
Inspirational Rocks
Many find inspiration from their rock art. Your favorite Bible verse or a motivational phrase can be the most simple rock art to create because you are only writing on the rocks. A small rock with a Bible quote or inspirational phrase would make a good idea for a desktop paperweight and/or a gift idea.
Mandala Art
On the more metaphysical side you have mandala stones. Mandala art is made from making dots in a geometric pattern representing traditional Hindu and Buddhist cosmology or a picture representation of the universe. Some people find it a form of meditation and anyone can enjoy making the beautiful patterns.
Reiki stones are a type of stone or crystal used in Eastern metaphysical healing. Sometimes Chinese characters are engraved into flat black obsidian stones. These would be easy to fake with some black paint and a google search for Chinese healing phrases with meanings. These would look great in Chinese and Japanese inspired landscapes.
Rock Cairns
Stacked stone monuments have been used for centuries by pre-historic Celtic people in Europe for various purposes including memorials for the dead.
Today they are used more as ornamentation. The balanced stones appear to defy gravity but are really using metal rods inserted into holes drilled into the rocks to stay upright. If you want to try this at home and have the tools for it, remember to fill the holes with silicone caulking and make the holes just barely large enough for the metal rods to fit in the holes. This way you can ensure the least movement from one rock to the next.