Warm-up this Winter with the newest ideas and designs in fire pits. (at least a couple of these you can absolutely make in a day).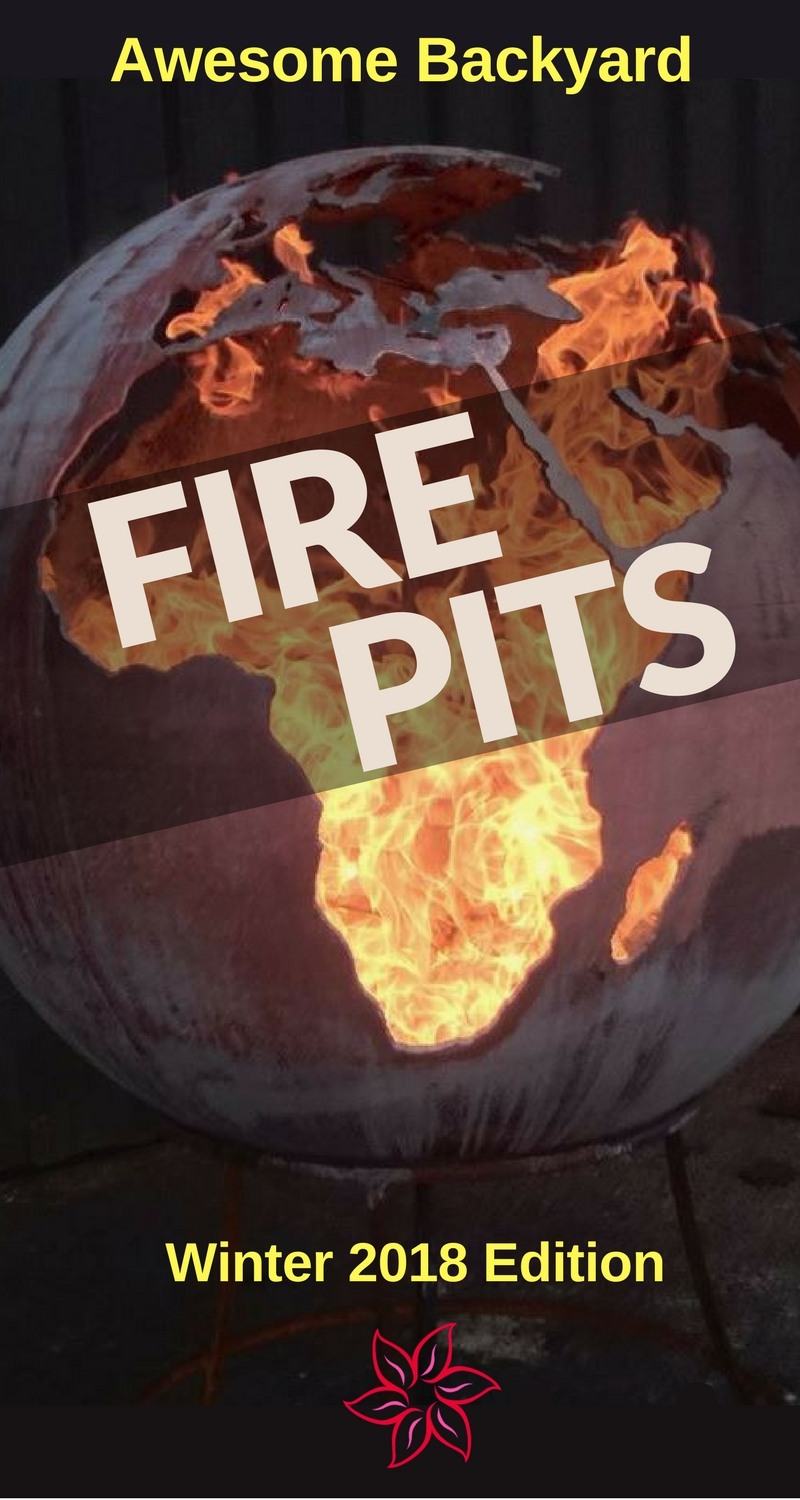 Great for entertaining and parties, fire pits allow us to extend the outdoor season into the colder months.
Industrial "Chic" Fire Pits
Cor-ten Steel
Weathered steel (also known as cor-ten steel) is a steel alloy made to be used outdoors without needing to be painted or coated. It quickly forms a layer of rust or oxidization on the surface that actually forms a protective layer preventing additional interior oxidization or corrosion. This material can last outdoors for decades.
Fire pits, bowls, and chimeneas made with cor-ten steel give the backyard a sleek modern look without much expense.
One way you could introduce a metal fire pit into landscape (without buying one) is to make an in-ground pit layered with a gravel base. Before you lay the gravel, place a curved metal backdrop as pictured below. You can use regular landscape edging/wall blocks to build-up the gravel base layer.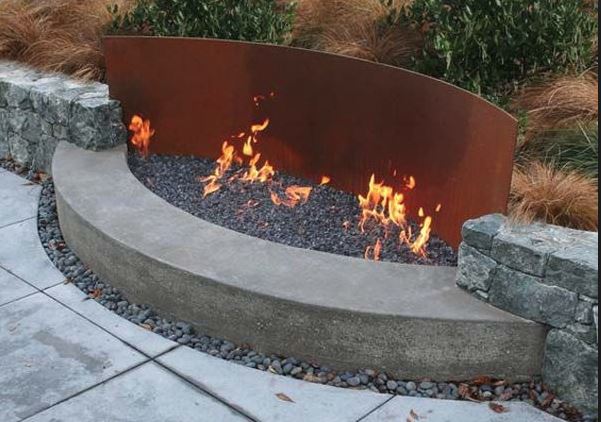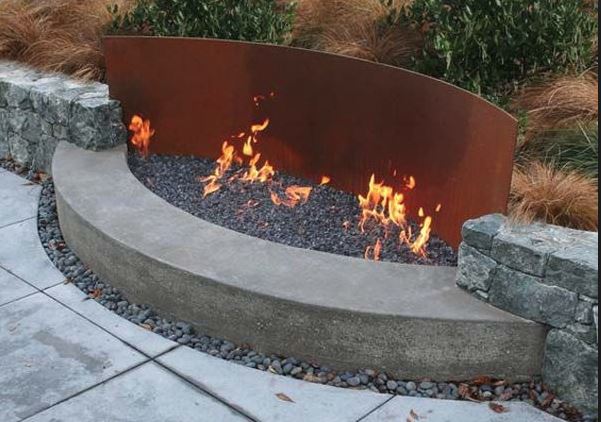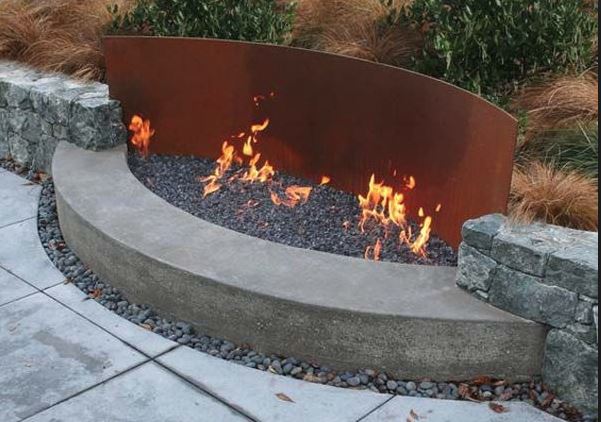 This one (above) is gas-lighted on glass pebbles but you see how it can just as well use fire wood so no contractors would be necessary.
Steel sheet metal can be sourced at metal fabricators where they can also bend the metal for you if desired. If you don't have a metal fabrication company near your home, I'll leave resource links at the bottom of this article for additional sources where you can purchase sheet metal.
Another option besides sheet metal you can use is decorative metal shade panels. These panels are usually used for privacy or shade above and on the sides of porches, decks and patios. They usually have beautiful patterns cut into them by lasers.
Metal shade panels can be carefully bent around trash cans to get the desired curve.
Gabion Style Designs
Gabion is a style of building using wire cages to fill with structurally stable rock (usually employed in structures like retaining walls) and has become popular in garden design in recent years.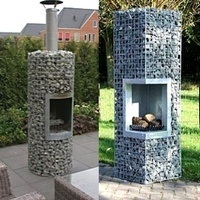 Now Gabion rock fire pits are here to grace the home landscape. In researching this article I couldn't find any major retailers selling the wire box cages used to make these but I'm sure you can with some more tenacity than I had. It might be possible to modify some found on the market for this purpose.
A Touch Of The Exotic
If you have or any of your friends have welding experience then you could try your hand at making this Polynesian fire 'god'. Metal fabricating warehouses can quote you a price on this sort of work.
Moving on, the next fire pits are sold commercially and a couple options are very affordable.
Fire And Water
This type of installation would require a contractor to install gas lines and a fountain but what if I told you they make self-contained fire/fountain kits that you can install yourself? Well, they do make something like that but the one drawback would be the amount of flames you can get.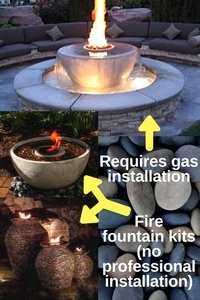 With gas lighting you can turn up the flame in your fountain but the above kits use a small fuel-gel canister for the flame. It still looks nice and makes a nice focal point but they will not provide any measurable warmth for you in cold weather.
Set The World Ablaze
Third rock fire pit
Death star fire pit
Didn't they destroy that thing twice already in the movies? Well, now it's our turn.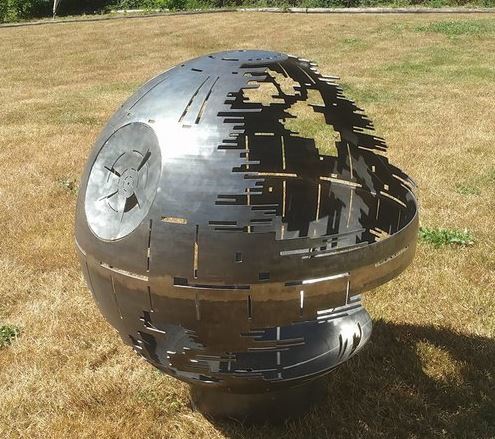 More Ideas And Accessories
Fire pit rings
Fire pit rings have the benefit of being portable and movable. You can build a fire any place you would like and if you want to move it somewhere else you can. Some are collapsible so when you're done with them you can store the cooled ring anywhere.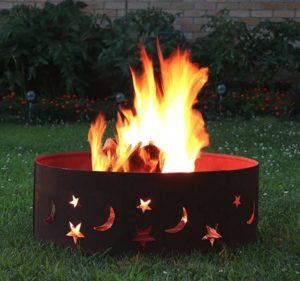 Fire bowls
As with fire pit rings, fire bowls are a more affordable option. The shape, size and material options are almost endless.
Cooking over the pit
I use "cooking" as a relative term here. It's allot easier to heat-up foods that are already cooked unless you have a good sized pit that can reach the desired temperatures and use a cooking thermometer. Hot dogs and s'mores are good options for cooking over the pit. I've heard of people heating kettle corn on fire pits but I haven't tried it myself.
Colored fire
Place a couple of these packets directly on the fire and see blues and greens added to the oranges and red colors in the flames. Mesmerizing effects to enchant your visitors or around the campfire.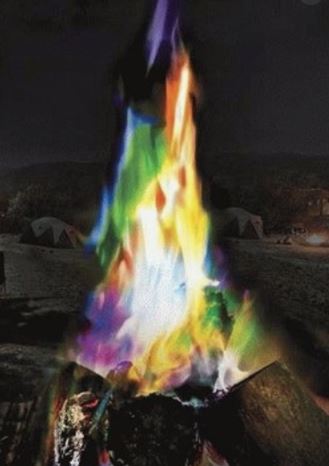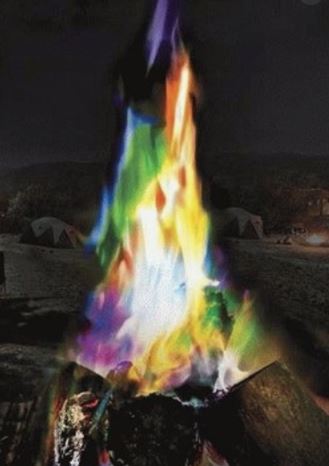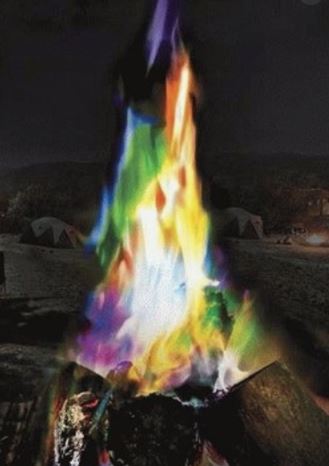 Made of metal salts which oxidize to produce colors when introduced to a flame, they are not made to be used while cooking on the pit but otherwise safe to use. They get pretty good reviews from what I've read on Amazon.
Fire Pit Safety
When using a wood-burning flame on wooden decks and patios near flammable outdoor furniture it's best to use a fire-proof rug or mat under your pit for protection from stray embers. Gas lighted fire tables are safer on wood decks and don't produce embers in the way burning wood will.
Spark screens also help reduce those stray sparks quite a bit. Be sure to completely extinguish your fire before leaving it unattended for the night. This is especially important on windy days.
Always follow the safety instructions found on propane-fired pits.
Resources And Stuff From This Article:
For all the resources mentioned in the article please visit our Fire Pit Resources Page.
Thanks for reading!