Re-purpose your used wine bottles as garden art with these 7 great ideas…
1. Patio and landscape lighting.
Wine bottles can easily be converted to Tiki torches without cutting glass! Stakes and holders of all kinds are commercially available or you can make your own (D.I.Y. idea images are included in this article with helpful links at the end). Use the wick and torch fuel you use in normal Tiki torches or buy just a wick kit.
Make wine bottle accent lights by inserting a short strand of Christmas lights (plus tinsel if you like). Clear frosted bottles give a nice diffused light effect if you have or can find them.
Wine bottles also make attractive candle holders or even chandeliers!
2. Hummingbird Feeder.
This one also doesn't have to require cutting the glass if you use a hanger, turn the bottle upside down and use an adapter. Remember of course to clean the bottles so our little friends won't become inebriated and fly into things. One important thing to remember whether you buy or make one yourself, hummingbirds are attracted to brightly colored flowers, especially red. Your bottle doesn't have to be red but a bright color or clear should do the job of attracting them from a distance. The color of the end of the tube adapter where the birds actually feed from is more important, red is best. Some adapters in the shape of a small flower at the end are very nice. If you would like to make one yourself by reading my article on wine bottle hummingbird feeders, click here.

3. Garden Art.
Transform your vintage bottles into garden art or edging for plant beds.
4. Privacy Screens.
Drill a hole with a diamond bit in the bottom of the bottle, insert a metal rod or re-bar and a unique landscape effect is yours to enjoy.
5. Make A Wire Topiary.
Also, for an artisan look, you can scour the bottle with sandpaper or steel wool and then paint a couple coats of chalkboard paint on the outside of the bottle.
6. Wind Chimes.
This requires some skill in glass cutting but if that's not your thing, they sell these online.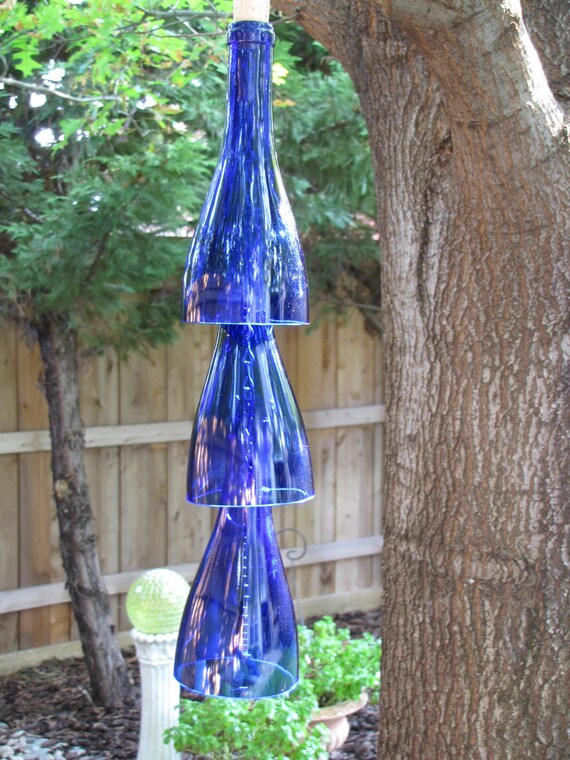 7. Fountains and Water Features.
What kind of container water gardening website would we be if we didn't mention wine bottle fountains?! Okay, you might be saying "The wine bottle fountain wall is too much!". We understand, that was just to get your creative juices flowing. The "pouring wine bottle container fountain" might also be too much of a project for most gardeners but anyone can make a D.I.Y. plant watering bottle (below). If you can't find a bottle with a cap you can drill a small hole in, adapters made just for this purpose are available.
Don't Have Any Wine Bottles?
You can source used or empty wine bottles on the web but shipping may cost you as much as the bottles. Check Craigslist.com or local restaurants that serve wine. Since they cannot return the bottles they are often discarded in the trash. For candles and lighting, do not pick dark brown colored bottles. There are many kinds of bottles besides wine bottles you could also use:
Olive oil bottles
Beer bottles (your favorite brand)
Hot sauce bottles
Liquor and liqueur bottles
Mason jars

, pickle jars, etc.
Removing the labels
For nicer looking bottles you may not want to remove the label, but if you do, a product like Goof-off works great if hot water and dish soap won't completely remove the label and adhesive.
Helpful Links:
For even more ideas on wine bottles in the landscape please visit our Pinterest board with allot more pictures.